Imagining a new customer experience
Discovery research presented insight into the triggers for customer scheduling interactions such as, "Netball training got moved this week and therefore my child can't make their Cluey session". This understanding was the catalyst for mapping out how pro-active customers might behave from that point.
Forgetful customers were managed through other service flows, such as automated reminders and follow-ups.

This basic trigger encapsulated a typical starting point, forking off in many directions depending on the customer default channel.
The mapping exercise considered all the ways a household administrator (e.g, a parent) might seek to inform Cluey of their schedule change needs, if not opting to make the change themselves. This map ensured all avenues included the promotion of, direction to, and enablement of the Cluey Hub as necessary to fulfil scheduling related tasks.
The journey map demonstrated how Cluey would direct customers from inbound phone calls, email or text messages as well as direct Cluey Hub access if they sought to amend session schedules, temporarily or permanently.
Promote > Direct to hub
Utilising the Customer Experience Principles throughout, the flows leveraged information about the customer to contextualise phone call menu prompts with relevant options and provided instructions in accordance with customer needs.
By capturing a customer's intent accurately, the appropriate channel was determined for tasks where the Cluey Hub was most suitable and the call ended while further instructions wew provided via email or sms. Only a select few tasks led customers to synchronous support, such as those requiring technical help. This provided customers with better alternatives and reduced on-hold wait times for those in need of synchronous support. Customers seeking technical support were also much more likely to call when they were able to access their computer and troubleshoot issues, rather than while multi-tasking which often extended schedule change interactions because customer weren't able to view their calendar at the same time, for instance, while driving.
Similar rules were placed on incoming emails and text messages, which auto-responded with instructions directing customers to start their journey through Cluey Hub where they could easily manage all aspects of the Cluey service.
The phone flow considered call routing based on known information about the incoming caller and then prompted them with applicable menu options.
Direct to feature > Enable > Validate
Once a customer accessed their Cluey Hub account, it was vital that friction points from previous user feedback were addressed. The design moved away from a category menu style information architecture (eg. your enrolments, upcoming sessions, need help) to one which offered situational sign-posts and signals (eg. today's sessions, can't make it, taking a break). The homepage was structured to provide clear starting points to meet customer use-cases, and then clarified specific intent on subsequent screens before finally directing customers to the appropriate content or feature.
Managing schedules
For the specific scenarios related to managing schedules (for which there are many permutations and variables), the Cluey Hub signalled relative session time options, captured specific intent regarding the nature of the scheduling need (one time, recurring, break or complete stop). Once the nature of the scheduling need was clear, the flow automatically directed the customer to the appropriate feature for their type of enrolment (private or group) and context.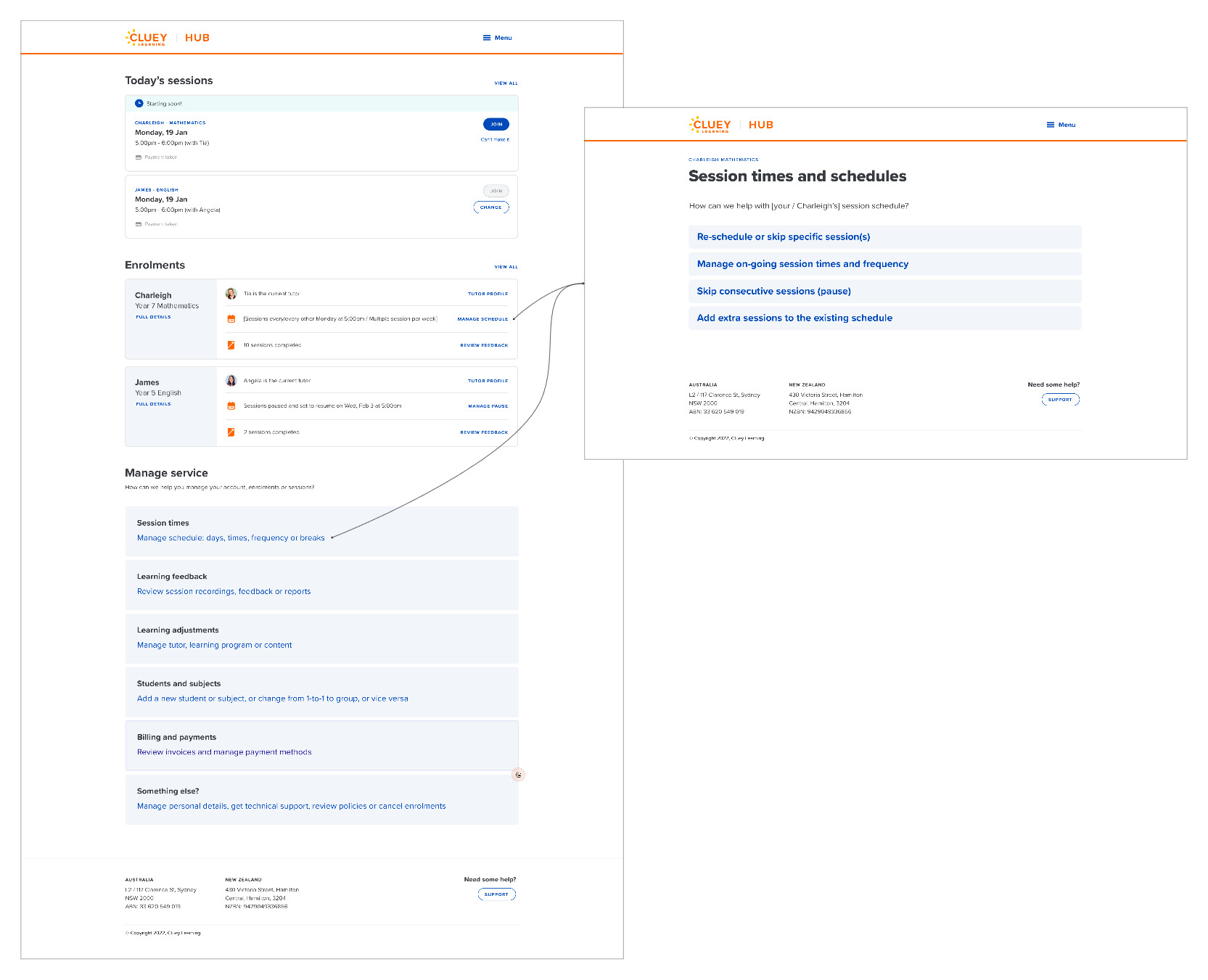 The home screen signalled schedule change starting points and then captured more specific intent.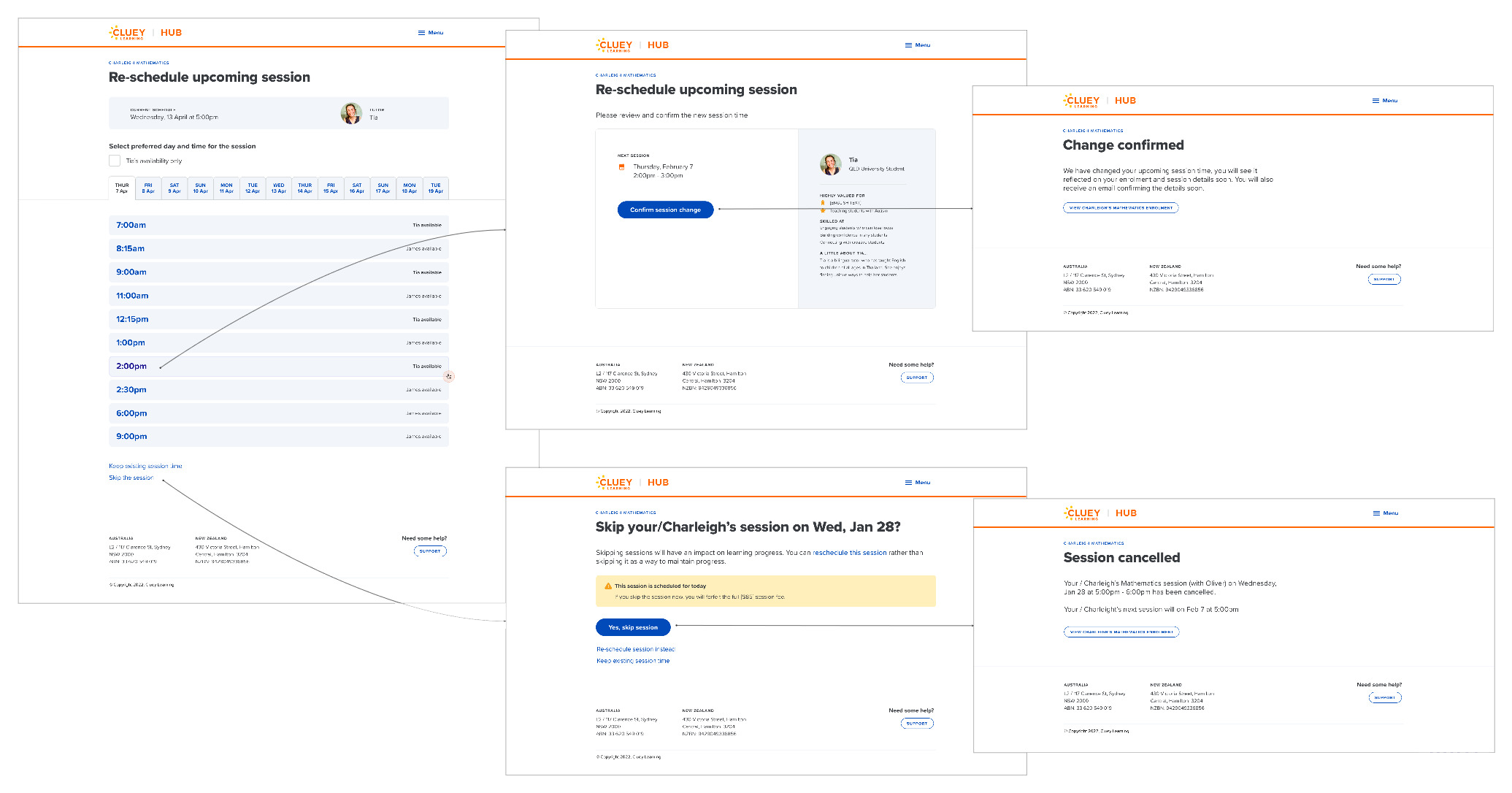 To promote learning, when "change an upcoming session" was chosen, alternate time options would appear before a "skip" option. If skipping the session was chosen, clear policy implications were displayed.