Reimagining the software
"The Grid" had traditionally been distributed by duplication. Based on the idea that Channel Partners were unique accross all Vendors, individual vendor "Grids" where built and bespoke change requests were serviced. This was not efficiant, nor scalable and the rigidity became a barrier to new features and ideas. Additionaly, many Channel Partners were utilising multiple campaigns across different Vendors. This created a less that ideal user experience for Channel Partners who managed campaigns across multiple platforms and logins.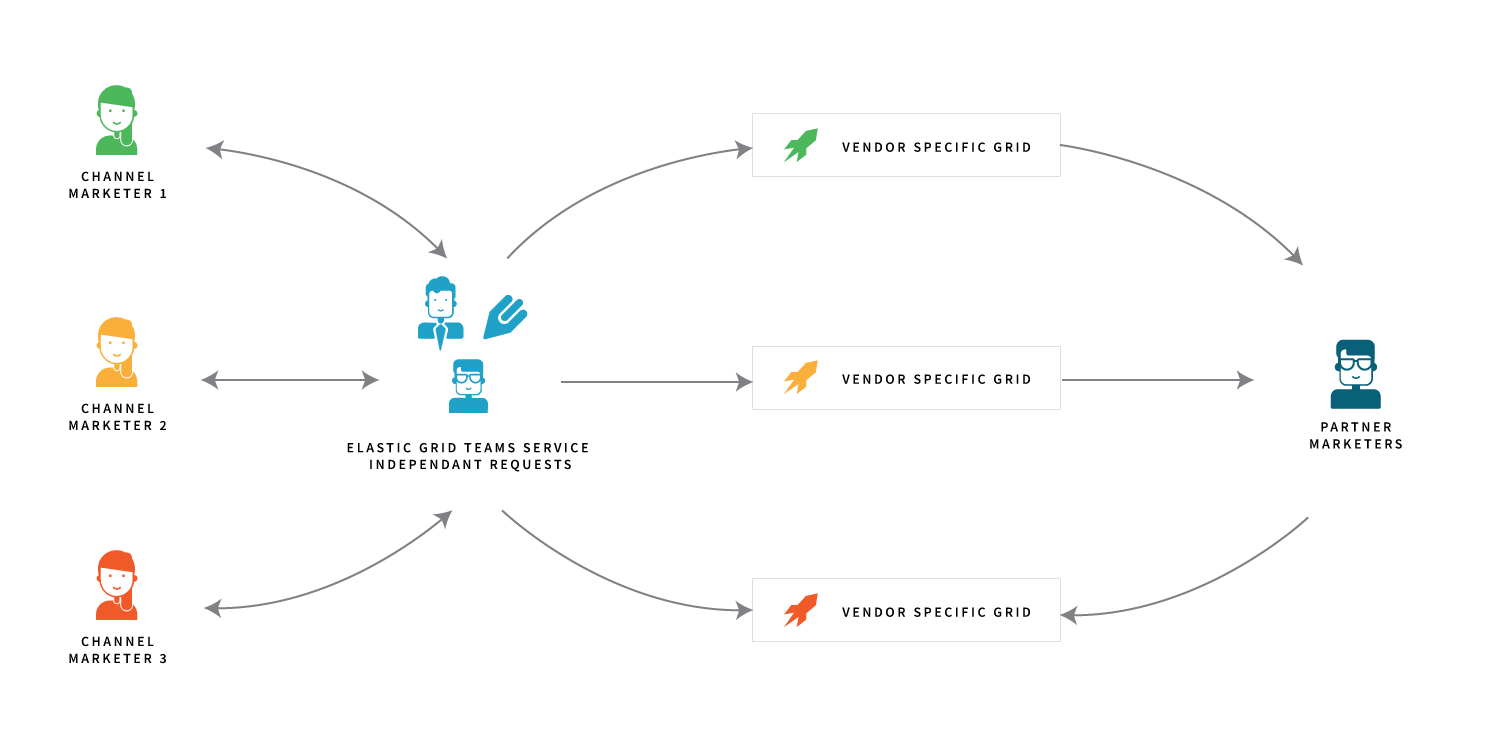 Elastic Digital vendor Grids were rolled out one-by-one with endless duplication
The fundamental change
"The Grid" needed to become a centralised application, open to all Channel Partners and 'Elastic' in nature. Elastic Grid would allow for a single Partner accounts to access all the Vendor campaigns and marketing assets they partnered with. This shift to a user-centric model, directed focus to improving the overall product for partners rather than constantly reacting to vendor requests.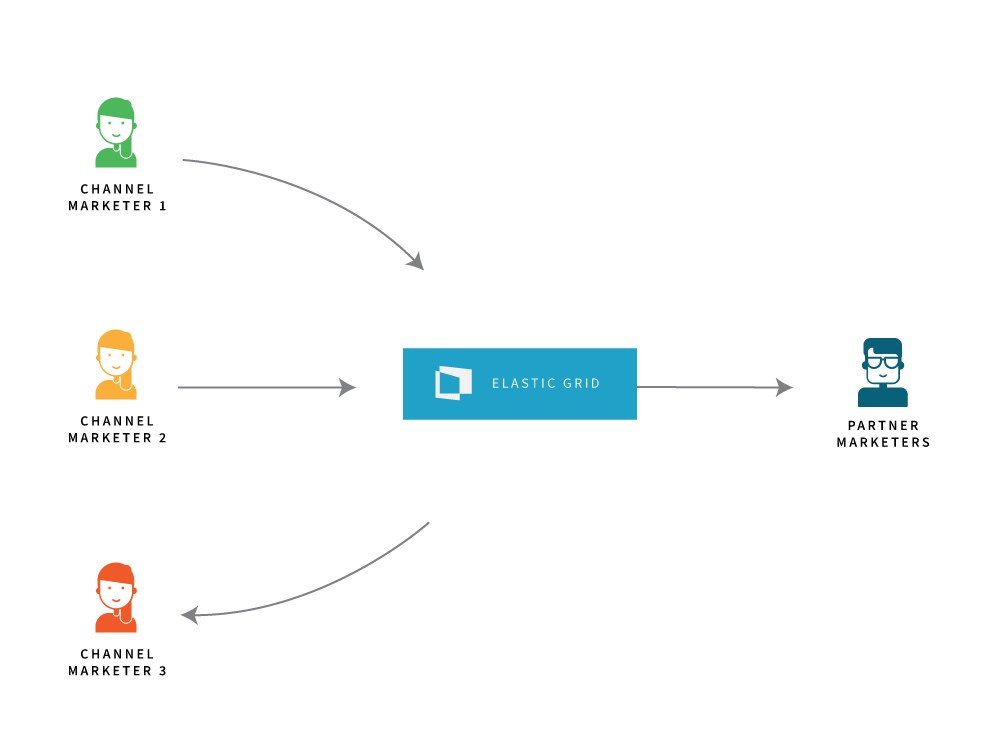 Elastic Grid focused its vendors on adding content to the platform and allowed partners to access it all in the one place
The new eco-system
The Elastic Grid eco-system become more cohesive; Vendor Channel Marketers managed their content rather than the platform. Their Partners (Re-Sellers) and their End Customers were managed centrally. The system began to acknowledge the needs of all players and benefited all of them by enabling Partners. The user-centred approach increased usage of the platform and provided more clarity about behaviours, which informed constant improvement.
A map of the Elastic Grid eco-system surrounding the platform
The once agency/client relationship became an end-to-end customer experience:
Marketing: targeted Channel Marketers and Partners. Both were invited to join the marketplace, either as Vendors, or Partners. We invited sign-up and offered generic lead gen and follow up campaigns that any one could leverage to get started immediately.
Sales and Account Management facilitated the on-boarding of Vendors.
Creative Services worked with Vendors on new campaigns and collateral.
Partner Advisors on-boarded and supported Partners and their marketing efforts.
Support Administrators: provided documentation, learning tools and second level support to all users.
Designing the software for a new approach
Re-imaging Elastic Grid to facilitate the new direction required planning, design and development of the interface, but also its data structure, information architecture, and authentication and authorisation flows, including the support of third-party single-sign-on integrations.
The architecture
The platform was re-architected completely and split across five key applications:
Portals: Each Vendor had a portal (or store front) to showcase their channel marketing assets.
Campaign Launcher: The marketing automation tool which hosted campaigns, contact management and execution tools for co-branding sites and scheduling email and social-media campaigns.
Analytics: Used by Partners to review campaign performance and by channel marketers to view aggregated channel performance for campaign activity as well as collateral use.
Blueprints: The Elastic Grid content management tool for Vendors to create and edit campaign.
Admin: Used by Elastic Grid staff to manage vendors, users and campaigns.
Information and user flows
The first layer of design was determining the new page flows across the application suite.

The site map spanned the entire applications suite
Data relationships
Key data associations across the platform suite were mapped out to determine the changes needed to be made in order to enable the many-to-many relationships approach of the new system. This included understanding and mapping the links between vendors, partners, campaigns, co-branded campaigns, campaign executions and contact relationship data.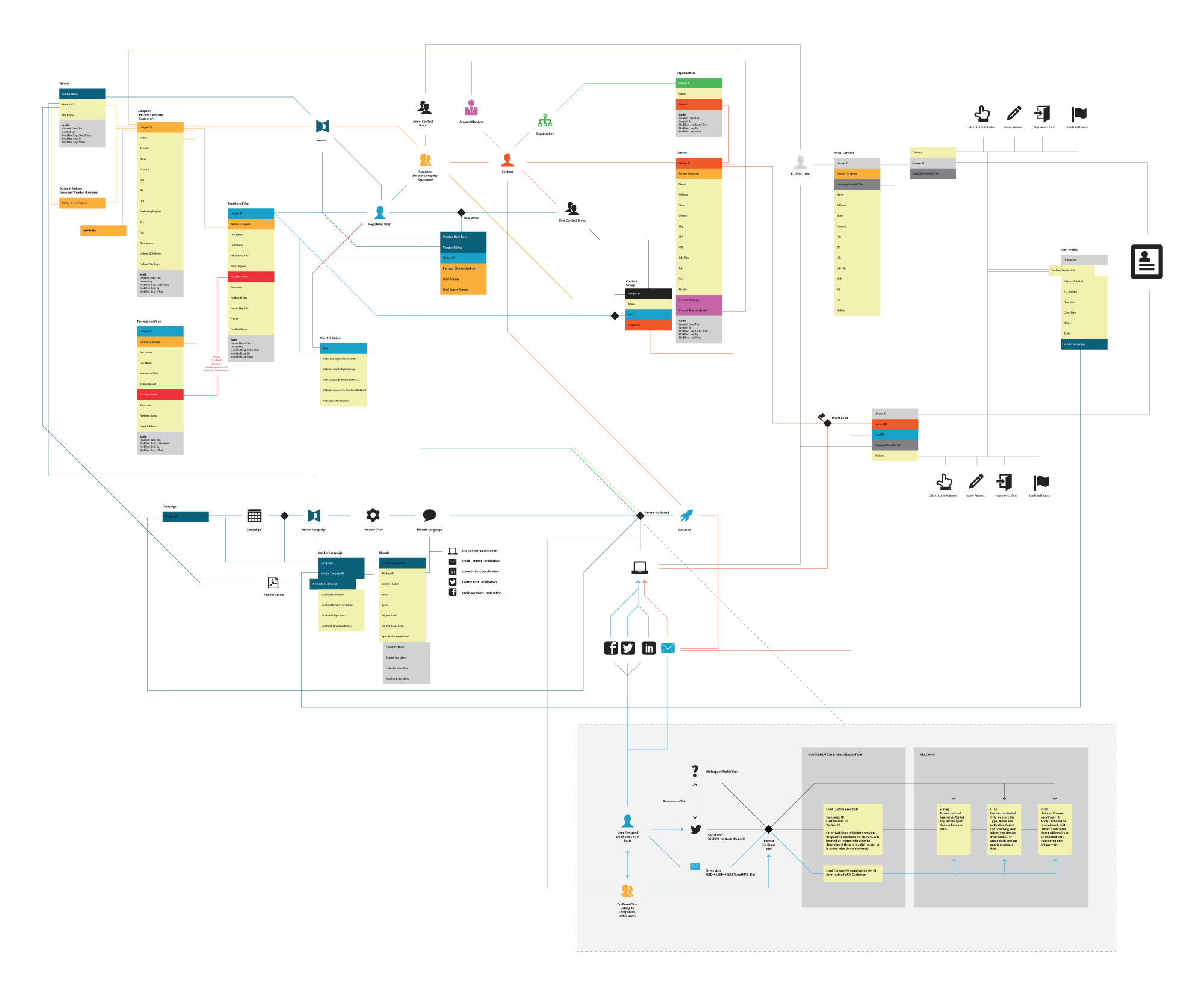 A basic data relationships diagram outlined how various properties within the information archetecture connected accross the database.
Access flows
One of the more complex aspects of the Elastic Grid platform was assigning the various user roles, access levels for administration and permissible authentication and authorisation via third-party single-sign-on. The access pathway map demonstrates the flows and access to applications and resources for the various user roles.

A diagram of access requirements for apps and resources